Phuket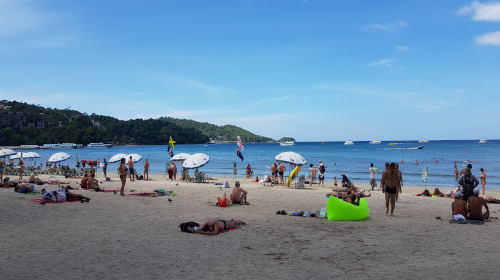 On Phuket everyone can be happy
For many tourists, the island is the starting point for their vacation in Asia. It is one of the most popular destinations in the world and is known for its glorious beaches, luxury hotels and entertainment.
Travel is comfortable
Phuket is the largest island in Thailand, with a length of about 50 kilometers and a width of 22 kilometers. It is located in the west of the country and only a narrow strip of water separates it from the mainland. Next to Bangkok is the kingdom's second international airport, so getting there is quite easy. Although the island is very crowded, here and there you will find a spot without many tourists. Depending on the location, you will find luxury hotels and huge parties or cultural sites, small wooden huts and authentic street food on the island.
The different regions
Parts of the island are extremely western, other areas are very quiet and traditional. The west coast is the destination of many tourists, which is why hotels are found back to back here. Party and shopping enthusiasts will enjoy Patong Beach. A little further north is Bang Tao Beach with its simple beach bungalows. Those looking for relaxation will feel at home here. In the southwest, at Kata Beach and Karon Beach, the hotels have their own beach section, so the beach is also quite empty here. Adventurers can get their adrenaline fix in the inland of the island where a wild jungle is located.
More than just beaches
Of course, the largest Thai island offers more than just beaches. The inhabitants are considered hospitable and polite, so you don't have to hold back here. They are happy to help and provide real insider tips. There are many small Chinese temples in Phuket's Old Town, hence the city resembles something out of a storybook. There are numerous small markets and you can find goodies of the Thai cuisine at every corner. The Big Buddha is a 45 meter high statue and offers an awesome view of the island and the sea. Meanwhile, the island is shaped by tourism, but you can still find a couple of villages in their original state. There are orchards with exotic fruits, goat farms, rubber plantations and much more to discover.